Today, I would like to introduce a tool that everyone who deals with SEO should be familiar with. It is not only an excellent analytical machine but also an invaluable help for positioners. RankRanger, because it is in question, even offers the possibility to build their tools into its reports. Looking at the website itself, one can see that the company takes a professional approach to its users, offering them interesting tools, analyses, and even plug-ins for the website.
However, to the heart of the matter. The app consists of 4 major parts:
Rank Insight Reports
SERP feature Toolbox
Site Explorer
Keyword Research
The tool provides one with a total of 7 analytical reports:
Rank – quite nicely graphically presented the most crucial positions and characteristics of keywords, position, and appearance of search results
Fluctuations – shows the chances and threats that one's website may have
SERP Features – function showing how Google strengthens the visibility of search results
Featured Snippets – focus on the popular "Position 0" one's website achieves in the web browser
Above the Fold – a report showing what can be seen on the start screen of the search results (See why it is essential)
Search Console – it shows reports from Google tools
Meta Tags – a tool analyzing meta tags (title and description) and their visibility in SERPs
Analysis of Organic Search Results
Within the Site Explorer area, although it is a Beta version, one will find quite interestingly presented keywords assigned to their website. This feature was offered by SEMrush, so I recommend comparing the results.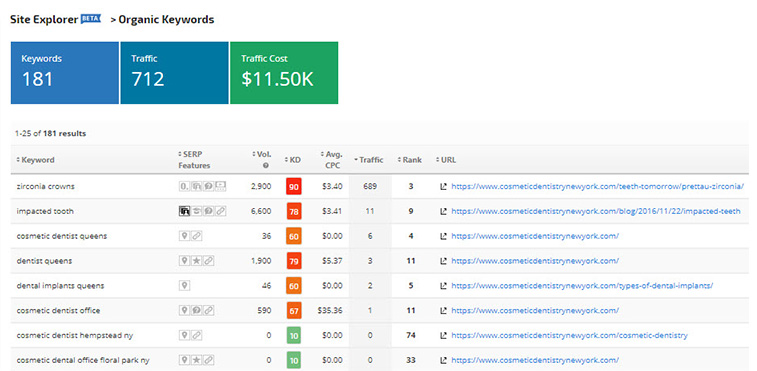 What's more, one can check the visibility of their subpages in SERPs and focus on those that potentially generate the most traffic.

When we combine the above data with an analysis of competitors' organic results, we get the full functionality offered by other SEO tools, such as Majestic or Ahrefs.

Analysis of Paid Search Results
Similarly, reports on paid search results are also well-presented.

Preview of Search Results
The function I expect in this type of tools is the preview of search results. If you don't want to use the Google Diagnostic Tool manually, you can try RankRanger.
Keyword Analysis
In this area, we are dealing with SEO elements, with which competitive solutions have some problems. With RankRanger we can carry out an analysis of:
related keywords;
related topics;
related questions that can be created based on keywords.
RankRanger is an excellent tool for those who create content on their blog. It helps to generate ideas for new keywords, answers to questions that one can put on their blog. RankRanger is an ideal solution for content marketing.
Analysis of the Website
The tool analyzes the whole website efficiently. It reports the most common optimization errors, i.e., missing alternative descriptions, meta tags, headers, too short content on the site, etc.  The technical analysis will provide one with a report on the redirections used.
Summary
The cheapest RankRanger plan costs just $69 per month. It is recommended for small companies running up to 10 campaigns. Comparing this amount with the cheapest SEMrush plan, which is less than $100 per month, our application is a better, more affordable alternative to SEMrush.
A New York-based company makes clear in its marketing message that Rankranger is a tool that one can implement into their solutions through the API. If you buy ten views (branded with your logo), you will pay 40 $ per month. Add to that plenty of integrations, thanks to which you will be able to integrate with Adobe Analytics, Ahrefs, Bing, Facebook, Instagram, Twitter, and YouTube, as well as many other solutions. The tool is worth recommending.
If you want to see how RankRanger works, try the 30-day trial.